Edit AI
One-click Ad, Content and Strategy Generator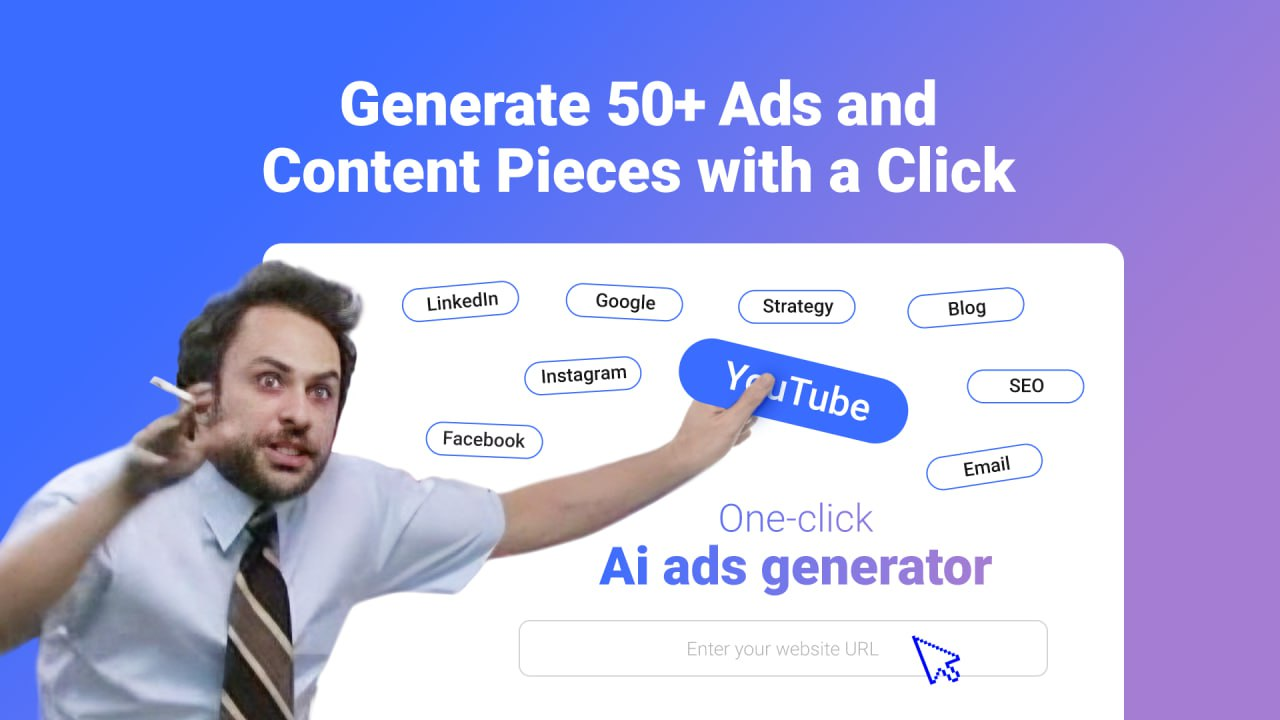 Generated by ChatGPT
Get AI Ad, Content and Strategy Ideas for your product simply by inserting your page URL.
Who it can help: entrepreneurs, marketers and copywriters who want to save time and get new ideas for promotion.
How Aiter can help:
- Get results fast when a deadline is coming. We've been there – it happens that the deadline dragon is on the prowl, and you have a sh*tload to do. Our AI tool is handy in such cases – get texts in a second.
- Get fuel for your creativity. Aiter can't do all the work for you, but it's an excellent place to start. It will give you new ideas on positioning and promoting your product.
- Solve several challenges with one AI tool. Get text ads, key strategy concepts, content and SEO keywords for your product in one click with one tool. This is like an AI Swiss Army Knife!
How Aiter works:
1. Insert your page URL or enter the product description manually.
2. Choose your creativity level.
3. Get ready-to-use AI ads, content and strategy ideas.
Aiter's features:
- Strategy concepts. Learn typical Jobs To Be Done and barriers for your product, generate marketing persona, value proposition and positioning statements with a click.
- Text ads. Create universal ads or ads that target specific barriers or needs of your audience. Generate ads for Google, Instagram, LinkedIn or Facebook.
- Content. Generate posts to promote your product in a second, and get different ideas for promo content.
- SEO keywords. A straightforward yet powerful tool to create a semantic core for your page.
Give it a try, and explore Aiter now: http://aiter.io
Featured
Aiter was manually vetted by our editorial team and was first featured on June 12th 2023.

Would you recommend Aiter?
Help other people by letting them know if this AI was useful.
130 alternatives to Aiter for SEO content
Writing Tool for 1-Click SEO Articles.

887

4.5

Generates high-quality content using copywriting.

427

5.0

Automating content creation and optimizing SEO.

271

Enhanced SEO content creation and optimization.

248

5.0

Content creation and chatbot development platform.

240

#1 AI For E-Commerce Platforms

186

5.0

Generate SEO-friendly blog articles.

185

5.0

Optimized content for better SEO.

177

5.0

Assisted content creation through writing.

152

4.0

Optimized personalized SEO content plugin.

76

5.0

Content optimization for SEO.

66

Generated concepts for startups and SMEs.

55

Generated efficient SEO content.

53

5.0

Automated creation and publishing of SEO blog content.

50

5.0

Blog writing assistant with enhanced capabilities.

47

4.0

Efficient SEO content creation.

42

1.0

Automated SEO content creation for marketers.

38

Autoblogging and SEO content generation

37

5.0

Improved SEO article creation

34

5.0

An Amazon listing optimization solution.

32

Content and SEO assistant.

32

5.0

Optimized content for e-commerce/blogging websites.

31

SEO and content creation aided by advanced algorithms.

30

Optimizes and tests visual assets for marketing.

28

Automated SEO blog writing for online content creation.

27

4.0

Optimized SEO content creation assistance.

26

Optimized bloggers' websites for SEO.

26

Optimized language solution for SEO and marketing.

26

1.0

Writing and SEO optimization assistant.

25

5.0

SEO-optimized content created automatically.

25

Optimized content for various online platforms.

25

5.0

WordPress content creation and optimization for SEO.

25

5.0

No-code SEO optimization and automated content creation.

24

Online platform for analyzing and optimizing websites.

24

Efficient blog post creation.

23

5.0

Generated SEO copy from analyzed content.

22

Generated content by machine.

22

Optimized eCommerce product content generation support.

22

Generated ecommerce content.

20

3.0

High-speed content creation platform.

20

SEO-optimized article generation.

20

SEO-friendly content writing for blogs and articles.

20

Content creation and optimization for marketing and SEO.

19

SEO content generation for blogs and web pages.

19

Content creation and project management solution.

19

Efficient content creation assistant.

18

4.0

Generating SEO-friendly content for marketers.

18

4.0

SEO content with topic recommendations & text rewriting.

18

Aids in creating engaging digital content.

18

High-quality content generator.

18

5.0

Converts YouTube videos to SEO-optimized articles.

18

Automated writing with optimized content.

18

Optimized social media and blog content creation.

17

1.0

Business content, flexible rates, social media plan

17

5.0

Created SEO templates in multiple languages.

17

Automated SEO content creation for businesses.

16

Generated SEO blog posts with GPT tech.

16

Creates SEO-optimized content for marketing agencies.

15

5.0

SEO platform that improves website rankings.

14

14

Efficient creation of SEO-optimized articles.

14

An article writer that generates SEO-friendly content.

14

Automated content and copywriting for marketing.

14

Generating SEO-optimized, long-form content.

14

Brands and niche sites' SEO content generated.

14

Writing assistant for SEO and marketing content.

13

Generated SEO blog posts.

13

1.0

Boosted website traffic through automated blog writing.

13

Creating engaging content and optimizing for SEO.

12

SEO software for content optimization and tracking.

12

SEO-optimized blog content creation.

12

WordGenie aids online content search.

12

Boosted online presence via optimized meta.

11

Optimized text for SEO and business.

11

Generated SEO articles for WordPress.

11

5.0

Optimized SEO & content creation for projects.

11

5.0

Content generation for SEO optimization.

10

Enhanced online presence for webmasters & entrepreneurs.

10

Keyword research and content optimization

10

Bulk SEO article generation for content creation.

10

SEO content created quickly with copywriting assistance.

9

Advanced content generation solution for businesses.

9

Optimized content creation for online creators.

9

Streamlined content collaboration platform for teams.

8

5.0

Generation of content for business & personal use.

7

Automated solutions for writing and interactions.

7

Generated articles, letters, and more content.

7

Assisted content creation and blogging.

7

Writing assistant for improving digital content.

6

Generate branded marketing content.

6

Optimized content creation for Shopify SEO.

6

SEO-friendly content creation at scale.

5

Automated text generation for various applications.

5

Platform for creating high-quality content.

5

5

Generate SEO-ready blogs/articles efficiently.

5

SEO and marketing optimized.

5

High-quality content creation solution for businesses.

4

Cloud SEO platform: writes, optimizes, tracks, aids.

4

SEO content creation automation for marketers.

4

Content gen for optimized writing & SEO.

4

Effortlessly generate SEO articles

4

Generated SEO articles for bloggers & creators.

3

Website development and growth assistance.

3

SEO-optimized content generation for diverse purposes.

3

Generated content for small businesses' SEO.

3

SEO-optimized blogging platform.

3

SEO content, blogs, articles, and writing generated.

3

Assisted SEO content creation for business teams.

2

Assisted content creation & optimization for businesses.

2

Generate affordable high-quality articles.

2

SEO and lead generation content creation.

2

Content creation and SEO optimized with assistance.

2

Affordable SEO content created.

2

SEO-optimized content creation for blogs & articles

1

Content creation with SEO and video editing.

1

SEO content writing assistant for blogs and articles

1

Content generated with technology.

1

Enhanced SEO content creation via keyword planning.

5.0

Automates SEO blogs with images.

15
Pros and Cons
Pros
Generates SEO-friendly content
One-click interface
Creative level customisation
Generates Google, Facebook, Instagram, LinkedIn ads
Generates content for blogs
Creates various strategy ideas
Quick generation of SEO/PPC keywords
Analyzes websites or product descriptions
Generates 'Jobs To Be Done'
Generates unusual marketing ideas
Appropriately free to use
Data security and privacy protection
Support on social media/email
Allows creativity level choice
Generates multi-purpose content
Generates text ads instantly
Time-saving tool
Idea generation for marketing
Provides customization to brand tone
Generates high-ranking SEO Keywords
Creativity level feature for style
Generates content quickly
Easy to use for non-technical users
Feedback sharing on LinkedIn
Generates ready-to-use ads
Helps meet tight deadlines
Can be used for product positioning
Tool for solving multiple challenges
Generates strategy concepts
Generates different types of content
Analyzes website for strategy ideas
Can generate blog posts
Can generate social media posts
Creates content matching brand style
Generates relevant business ideas
Instant results
User-friendly interface
Can tailor to product needs
No technical skills needed
Supports non-technical users
Analyzes product for SEO keywords
Follows strict data protection regulations
Cons
No API integration
Limited customization options
No advanced analytics
Glitches and infinite loading
No offline access
Potential limitations on free version
Limited customer support channels
Unclear data privacy policy
No mobile app availability
Only text-based output
If you liked Aiter
People also searched
Help
⌘ + D bookmark this site for future reference
⌘ + ↑/↓ go to top/bottom
⌘ + ←/→ sort chronologically/alphabetically
↑↓←→ navigation
Enter open selected entry in new tab
⇧ + Enter open selected entry in new tab
⇧ + ↑/↓ expand/collapse list
/ focus search
Esc remove focus from search
A-Z go to letter (when A-Z sorting is enabled)
+ submit an entry
? toggle help menu
x
Sign in to continue (100% free)
To prevent spam, some actions require being signed in. It's free and takes a few seconds.
Sign in with Google