Edit AI
Study & Writing Answers & Retrieval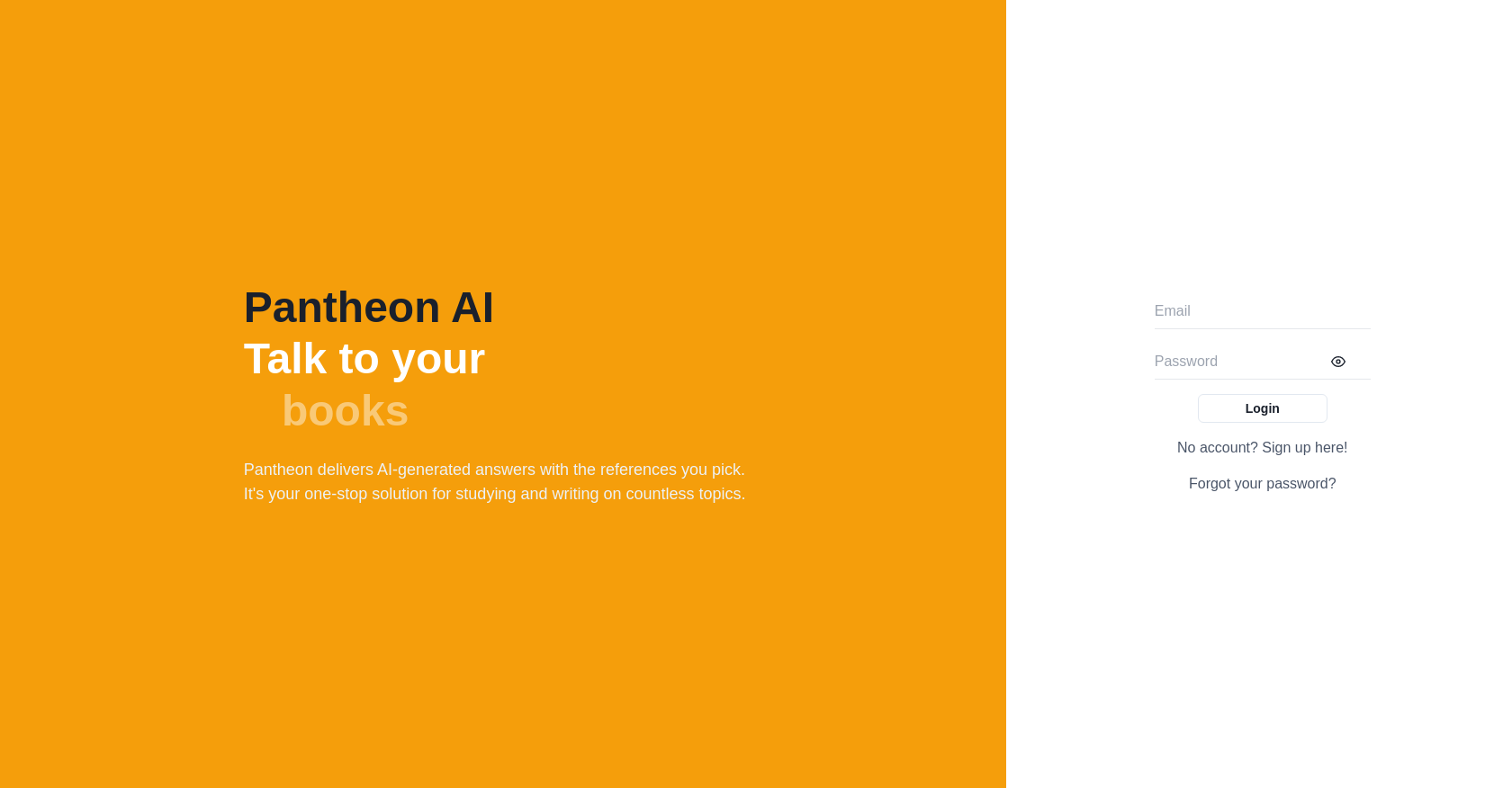 Generated by ChatGPT
Pantheon is an AI tool designed to provide users with AI-generated answers. It functions as a comprehensive resource for studying and writing about various subjects.
By allowing users to select specific references, Pantheon generates answers tailored to the user's chosen sources.With its "talk to your books" feature, Pantheon offers a convenient solution for those seeking AI-generated information.
The tool can be utilized across a wide range of topics, making it relevant for users with diverse fields of interest.The tool's login feature allows users to access its functionalities easily.
For new users, creating an account is a straightforward process, while existing users can simply log in to access their saved references and retrieve AI-generated answers.Pantheon's functionality also extends to password recovery, offering a streamlined process for users who have forgotten their login credentials.
Users can efficiently request a password reset to regain access to their account.In summary, Pantheon is an AI tool that enables users to retrieve AI-generated answers based on specific references.
It serves as a valuable resource for studying and writing about countless topics, offering a convenient and comprehensive solution. With its user-friendly interface and features such as the ability to "talk to your books," Pantheon provides an accessible and efficient experience for users seeking AI-generated information.
Featured
Pantheon AI was manually vetted by our editorial team and was first featured on November 2nd 2023.

Would you recommend Pantheon AI?
Help other people by letting them know if this AI was useful.
98 alternatives to Pantheon AI for Learning
Enhance reading comprehension of scientific articles.

144

5.0

Customized learning: personalized building and tutoring.

81

4.3

A customized content creation software for educators.

77

5.0

Education guide and writing coach.

74

5.0

Quick and accurate answers to any query.

72

Improved learning comprehension.

70

Discover custom content by chosen topics.

51

5.0

Automated note-taking and info management.

50

Language learning and assistance.

43

Child ed-app with custom lessons.

41

Assisted academic assignments and quizzes.

38

Guided learning and skill development.

34

5.0

Hints for coding learners and coders.

26

4.0

Integrates advanced predictions into developer apps.

24

Custom research summaries

22

1.0

Enhanced blocks for personalized learning.

22

5.0

Enhances learning with interactive features.

21

Automated flashcards for efficient studying.

19

Helped students cheat on exams. (-2 for using "cheat")

19

Improve student writing and detect plagiarism.

14

Tech skills learning & career growth platform.

13

5.0

Student-led virtual education and engagement platform.

11

Advanced English language learning journeys

11

Enhanced app boosts subject knowledge retention.

10

5.0

Chatbots that assist in history exam preparation.

8

Interactive learning for education & training.

6

Accelerates learning of technical text.

6

Academic task assistant for student learning.

5

Assisted personal info research & discovery.

5

5.0

Chatbot for computer vision tech support.

4

Visualize concepts for learning and project management.

4

Customized curriculum learning assistant.

4

Personalized online education platform.

3

Homework help & exam prep

3
Help
⌘ + D bookmark this site for future reference
⌘ + ↑/↓ go to top/bottom
⌘ + ←/→ sort chronologically/alphabetically
↑↓←→ navigation
Enter open selected entry in new tab
⇧ + Enter open selected entry in new tab
⇧ + ↑/↓ expand/collapse list
/ focus search
Esc remove focus from search
A-Z go to letter (when A-Z sorting is enabled)
+ submit an entry
? toggle help menu
x
Sign in to continue (100% free)
To prevent spam, some actions require being signed in. It's free and takes a few seconds.
Sign in with Google