Edit AI
By

Career guidance & job search platform.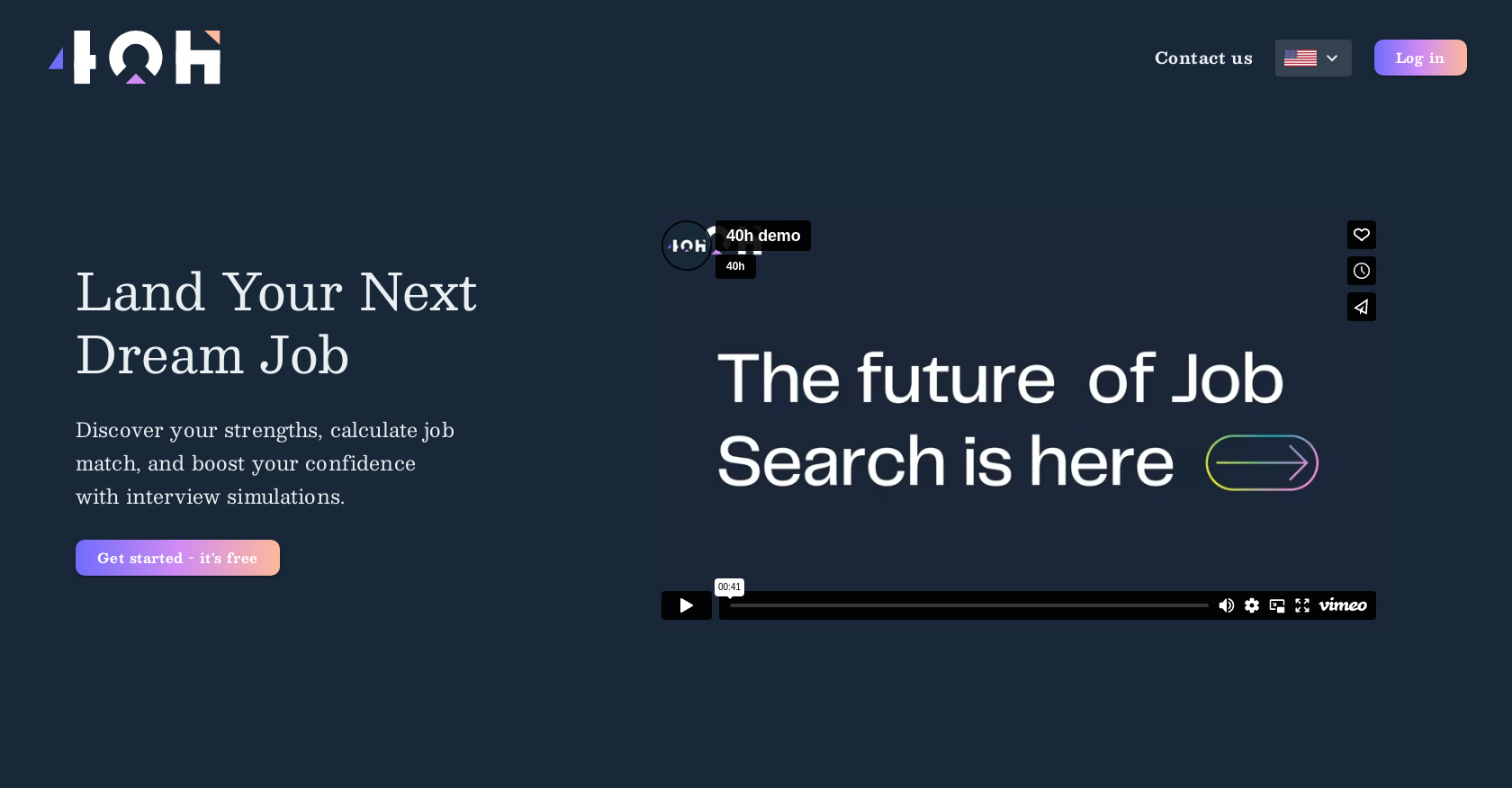 Generated by ChatGPT
40 Hours is a web-based tool that aims to assist individuals in finding their dream job by helping them discover their strengths, determining job compatibility, and enhancing their confidence through interview simulations.
Users can access these features by creating a free account on the platform.The tool offers a strength assessment component, which helps users identify and understand their unique abilities and qualities.
This information can be used to gain clarity on potential career paths that best align with their strengths.Moreover, 40 Hours provides a job match calculation feature that enables users to evaluate the compatibility between their skills, experience, and interests, and the job requirements of various positions.
This functionality aids users in determining which jobs are most suitable for them based on their individual profile.Additionally, the platform offers interview simulations that allow users to practice and refine their interview skills.
By offering a realistic interview experience, users can build confidence, sharpen their communication abilities, and learn how to effectively respond to different interview scenarios.With an intuitive web interface, 40 Hours provides a user-friendly experience for individuals seeking career guidance.
By utilizing this tool, users can gain valuable insights into their strengths, explore compatible job opportunities, and enhance their interview performance, ultimately increasing their chances of landing their dream job.
Featured
40H was manually vetted by our editorial team and was first featured on October 7th 2023.

Would you recommend 40H?
Help other people by letting them know if this AI was useful.
10 alternatives to 40H for Career advice
Ideal careers discovered via personality traits.

64

Personalized career coaching for job seekers.

61

Personalized career and academic guidance platform.

51

Custom career advice using interests, skills & values.

40

2.0

Career advice, value estimates, letters, and prep.

20

LinkedIn profile optimization advice for professionals.

17

Career coaching and interview simulator.

7

Career guidance platform for job seekers and students

6

Efficient talent recruitment and networking support

3

Quiz-based career guidance.

1
If you liked 40H
Help
⌘ + D bookmark this site for future reference
⌘ + ↑/↓ go to top/bottom
⌘ + ←/→ sort chronologically/alphabetically
↑↓←→ navigation
Enter open selected entry in new tab
⇧ + Enter open selected entry in new tab
⇧ + ↑/↓ expand/collapse list
/ focus search
Esc remove focus from search
A-Z go to letter (when A-Z sorting is enabled)
+ submit an entry
? toggle help menu
x
Sign in to continue (100% free)
To prevent spam, some actions require being signed in. It's free and takes a few seconds.
Sign in with Google