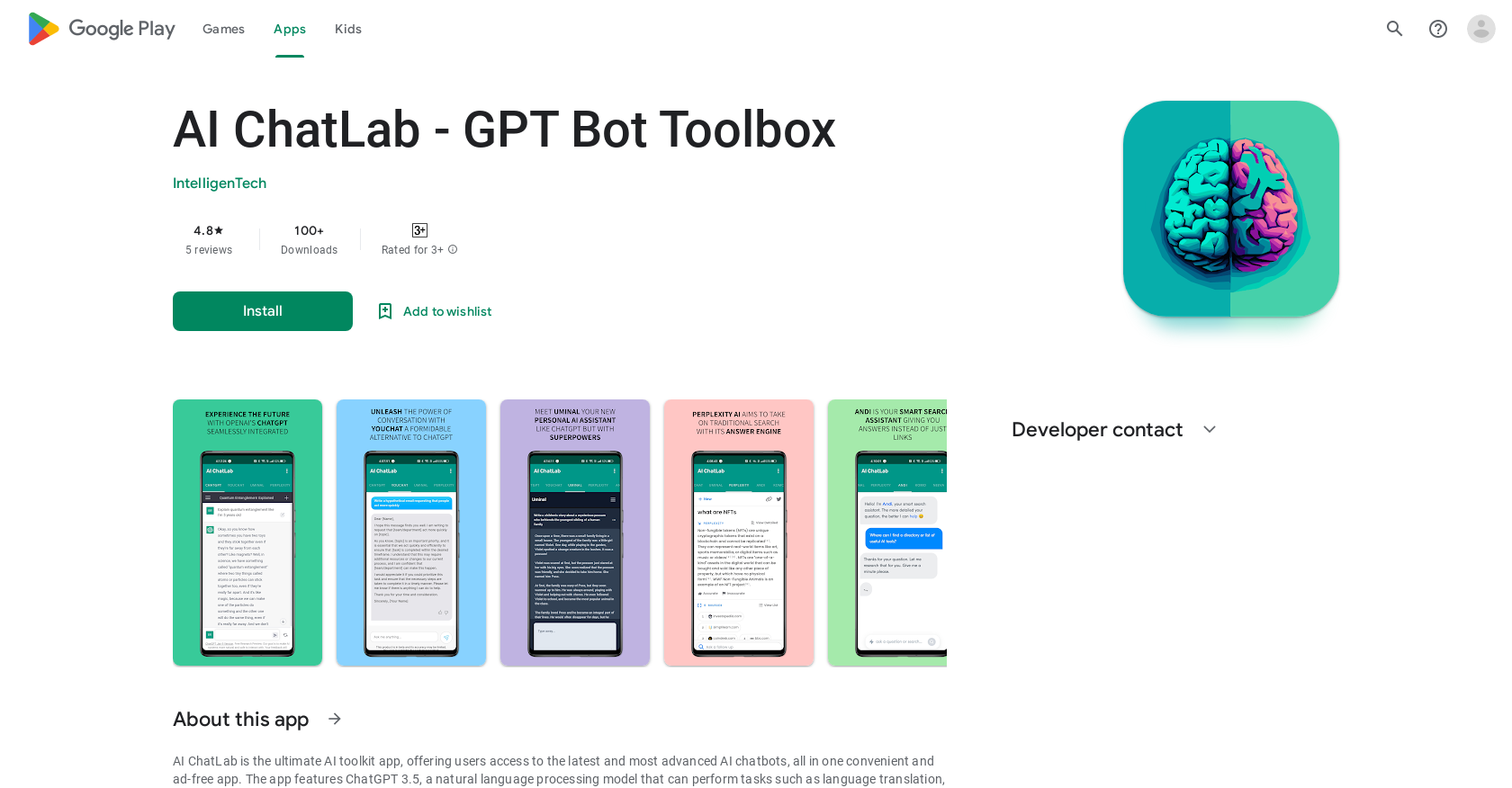 Generated by GPT-3
AI ChatLab is an AI toolkit app that offers users access to the latest and most advanced AI chatbots. It includes ChatGPT 3.5, a natural language processing model that can perform tasks such as language translation, question answering and text generation.
It also features YouChat, a conversational AI that is continually learning and currently in open beta. AI ChatLab also includes Perplexity AI, an "answer engine" that can provide on-demand answers to any questions by searching online, and Neeva, a privacy-focused search engine that is planning to launch its own natural language processing conversational AI.
Other features include Uminal, an AI-powered personal assistant; AndiSearch, an AI-powered search bot; Komo AI search engine; and TinyWow's suite of free AI writing tools.
The app is user-friendly and designed to enhance daily tasks and increase productivity. It is protected by data safety regulations and encrypted in transit.
With the latest release, performance has been improved and Uminal AI assistant - a ChatGPT-like Chatbot - has been added.
Featured
?
89 alternatives to AI ChatLab for Conversations
02 Mar 2023

05 Mar 2023

06 Mar 2023

06 Mar 2023

07 Mar 2023

07 Mar 2023

07 Mar 2023

08 Mar 2023

11 Mar 2023

11 Mar 2023

11 Mar 2023

11 Mar 2023

13 Mar 2023

14 Mar 2023

15 Mar 2023

15 Mar 2023

02 Feb 2023

03 Feb 2023

04 Feb 2023

06 Feb 2023

07 Feb 2023

08 Feb 2023

10 Feb 2023

11 Feb 2023

13 Feb 2023

20 Feb 2023

20 Feb 2023

20 Feb 2023

20 Feb 2023

23 Feb 2023

25 Feb 2023

26 Feb 2023

02 Jan 2023

02 Jan 2023

03 Jan 2023

05 Jan 2023

06 Jan 2023

07 Jan 2023

09 Jan 2023

09 Jan 2023

13 Jan 2023

23 Jan 2023

23 Jan 2023

24 Jan 2023

27 Jan 2023

27 Jan 2023

29 Jan 2023

29 Jan 2023

30 Jan 2023

05 Dec 2022

06 Dec 2022

07 Dec 2022

08 Dec 2022

09 Dec 2022

12 Dec 2022

12 Dec 2022

13 Dec 2022

14 Dec 2022

14 Dec 2022

16 Dec 2022

17 Dec 2022

17 Dec 2022

18 Dec 2022

19 Dec 2022

20 Dec 2022

22 Dec 2022

22 Dec 2022

22 Dec 2022

23 Dec 2022

24 Dec 2022

28 Dec 2022

29 Dec 2022

30 Dec 2022

05 Nov 2022

26 Nov 2022

26 Nov 2022

30 Nov 2022

22 Oct 2022

24 Sep 2022

26 Sep 2022

28 Sep 2022

12 Aug 2022

14 Jun 2022

02 May 2022

08 Mar 2022

09 Apr 2021

29 Jun 2021

17 Nov 2021

20 Mar 2020