Edit AI
Self-reflect for personal growth.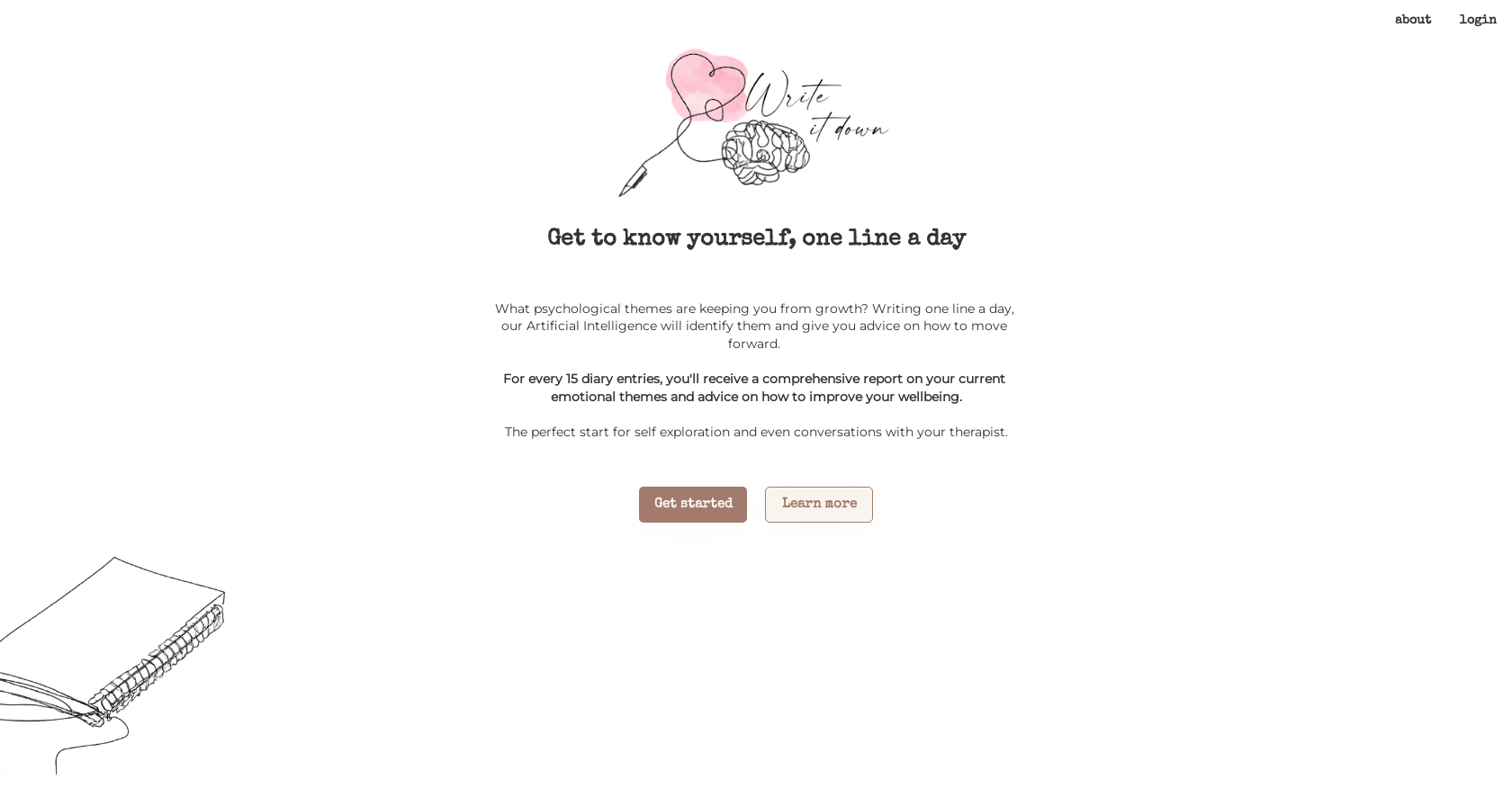 Generated by ChatGPT
"Write it down | Get to know yourself, one line a day" is an AI tool designed to provide psychological insights by analyzing personal thoughts and feelings.
This tool encourages users to write a brief entry every day, allowing the artificial intelligence to identify recurring psychological themes and offer advice on personal growth.
By analyzing these short entries, the AI brings attention to patterns that may be hindering personal development.After writing 15 diary entries, users are rewarded with a comprehensive report.
This report delves into the current emotional themes identified by the AI and provides practical recommendations for improving overall wellbeing. This tool aims to serve as a starting point for self-exploration and can even facilitate conversations between users and their therapists.In summary, "Write it down | Get to know yourself, one line a day" is an AI-powered tool that analyzes daily written entries to uncover psychological patterns and offer guidance for personal growth.
It provides users with valuable insights into their thoughts and emotions, ultimately assisting them in understanding themselves better and making positive changes to enhance their overall wellbeing.
Featured
Writeitdown was manually vetted by our editorial team and was first featured on October 2nd 2023.

Would you recommend Writeitdown?
Help other people by letting them know if this AI was useful.
13 alternatives to Writeitdown for Journaling
Self-care app detects patterns & insights in journaling.

160

Promotes growth via journaling and trigger detection.

96

1.0

Track, analyze and optimize workflows through a journal.

85

Customized mental health journaling for coaching.

58

5.0

Generated personal journal prompts via GPT-3 model.

44

5.0

Get personal feedback on your journal.

34

3.0

Customizable life tracker diary.

32

5.0

Personalized digital diary with growth tracking.

20

Access product info on mobile.

10

Personal growth journal with insightful recommendations.

5

Wellness journal with generated insights and feedback.

2

Streamlined thought organization & journaling.

2
If you liked Writeitdown
People also searched
Help
⌘ + D bookmark this site for future reference
⌘ + ↑/↓ go to top/bottom
⌘ + ←/→ sort chronologically/alphabetically
↑↓←→ navigation
Enter open selected entry in new tab
⇧ + Enter open selected entry in new tab
⇧ + ↑/↓ expand/collapse list
/ focus search
Esc remove focus from search
A-Z go to letter (when A-Z sorting is enabled)
+ submit an entry
? toggle help menu
x
Sign in to continue (100% free)
To prevent spam, some actions require being signed in. It's free and takes a few seconds.
Sign in with Google