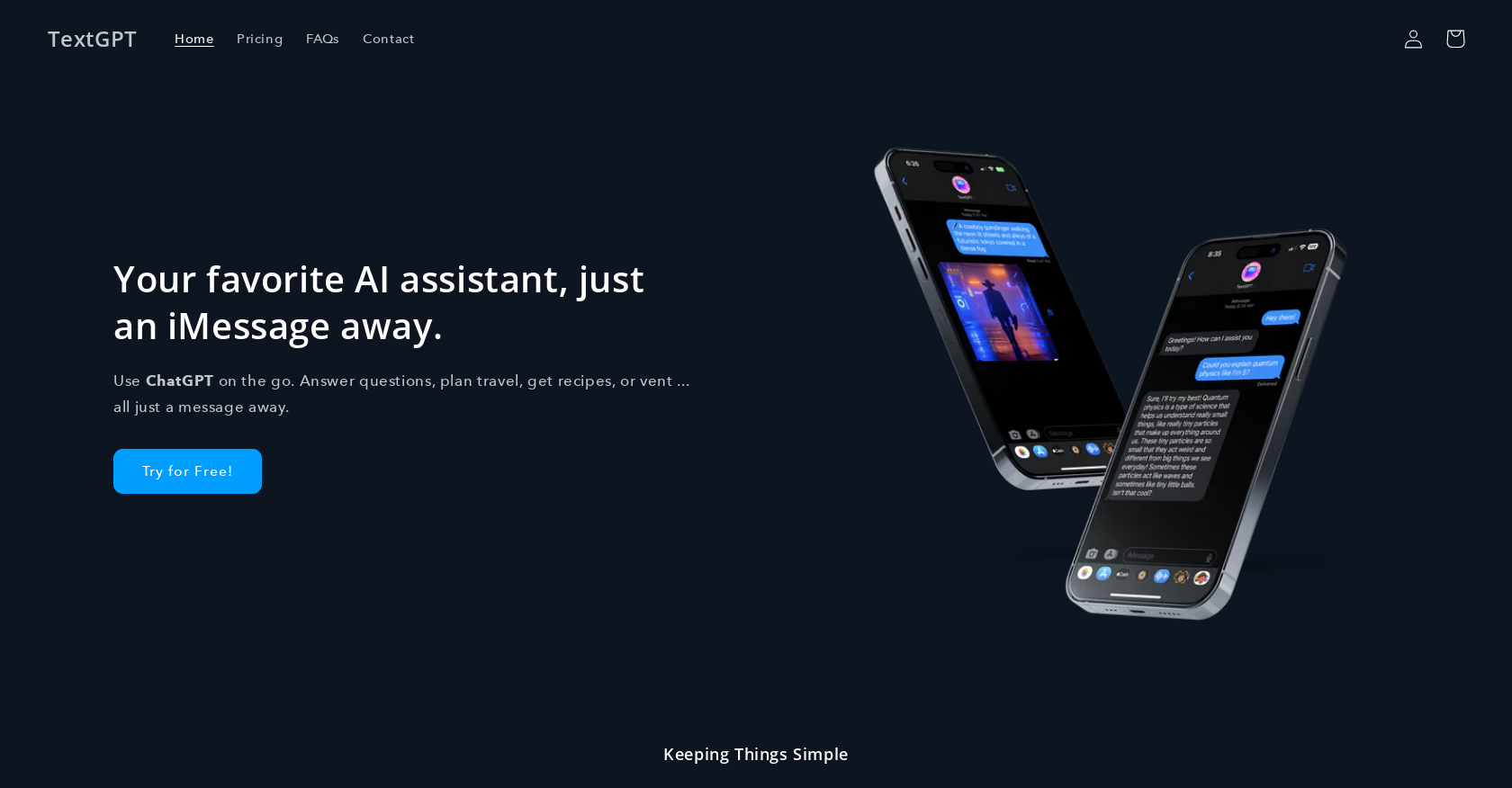 Generated by GPT-3
TextGPT is a chatbot tool that allows users to have text conversations directly from their messaging app. It is a simple and user-friendly tool that requires no app downloads, passwords or API tokens.
Users can have a nice conversation with ChatGPT without any frills. It is a website tool, but after set up, all that is needed is a phone. TextGPT provides 50 free trial messages to users to try the tool out, and after that, it offers flexible pricing plans that are not subscription-based.
There are no login requirements or API tokens needed for it to work smoothly. With TextGPT, users can set customized context and have lifetime chat history to keep track of all conversations.
It has been built by Franco, who is always ready to tackle new projects and can be reached through various channels, including his website or social media handles.
Overall, TextGPT is a valuable tool for users who want to have text conversations with ChatGPT without any technical hassles, such as app downloads, passwords or API tokens.
Featured
?
89 alternatives to TextGPT for Conversations
02 Mar 2023

05 Mar 2023

06 Mar 2023

06 Mar 2023

07 Mar 2023

07 Mar 2023

07 Mar 2023

08 Mar 2023

11 Mar 2023

11 Mar 2023

11 Mar 2023

13 Mar 2023

14 Mar 2023

15 Mar 2023

15 Mar 2023

02 Feb 2023

03 Feb 2023

04 Feb 2023

06 Feb 2023

07 Feb 2023

08 Feb 2023

10 Feb 2023

11 Feb 2023

13 Feb 2023

20 Feb 2023

20 Feb 2023

20 Feb 2023

20 Feb 2023

23 Feb 2023

25 Feb 2023

26 Feb 2023

02 Jan 2023

02 Jan 2023

03 Jan 2023

05 Jan 2023

06 Jan 2023

07 Jan 2023

09 Jan 2023

09 Jan 2023

13 Jan 2023

23 Jan 2023

23 Jan 2023

24 Jan 2023

24 Jan 2023

27 Jan 2023

27 Jan 2023

29 Jan 2023

29 Jan 2023

30 Jan 2023

05 Dec 2022

06 Dec 2022

07 Dec 2022

08 Dec 2022

09 Dec 2022

12 Dec 2022

12 Dec 2022

13 Dec 2022

14 Dec 2022

14 Dec 2022

16 Dec 2022

17 Dec 2022

17 Dec 2022

18 Dec 2022

19 Dec 2022

20 Dec 2022

22 Dec 2022

22 Dec 2022

22 Dec 2022

23 Dec 2022

24 Dec 2022

28 Dec 2022

29 Dec 2022

30 Dec 2022

05 Nov 2022

26 Nov 2022

26 Nov 2022

30 Nov 2022

22 Oct 2022

24 Sep 2022

26 Sep 2022

28 Sep 2022

12 Aug 2022

14 Jun 2022

02 May 2022

08 Mar 2022

09 Apr 2021

29 Jun 2021

17 Nov 2021

20 Mar 2020